Education has three main functions, they are as follows:
FUNCTION TOWARDS  INDIVIDUAL.
FUNCTION TOWARDS SOCIETY.
FUNCTION TOWARDS NATION.
FUNCTION TOWARDS  INDIVIDUAL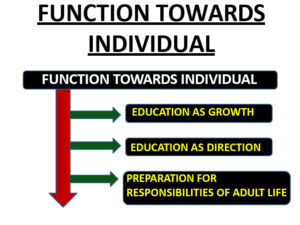 EDUCATION FOR  GROWTH
At first, every learner is immature.
He will be deliberately prepared for adulthood.
Through instruction, discipline, and harmonious development, education deliberately and systematically influences a mature influence of the teacher.
Harmonious development includes the development of human beings' physical, intellectual, aesthetic, social, and spiritual powers in accordance with the needs of society.
Education provides such guidance through a pre-planned educational programs.
The educational programs will modify and re-direct the child's instincts to desirable ends, resulting in a worthwhile progressive and harmonious growth.
EDUCATION AS  DIRECTION
Direction is the conversion of an activity into a correct response by eliminating unnecessary and confusing movements.
Every learner is endowed with innate abilities and powers.
His physical and social environment stimulates the learner's activity.
Much of the learner's constructive energy is wasted at first because he responds to the stimulus in an immature manner.
This waste can be avoided if the learner is properly guided toward a goal.
Education provides this sense of direction, and the learner's activities become purposeful.
2. FUNCTION TOWARDS SOCIETY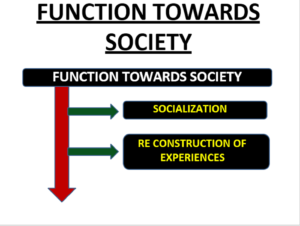 SOCIALIZATION
Education is a powerful tool for positive socialization and has the ability to reconstruct life experiences for the overall growth of society.
Man is a social being.
A person is the sum of his interactions with his social environment.
The elders of the society pass on to the younger generation their experiences, interests, discoveries, conclusions, traditions, and attitudes.
All of these have a significant impact on the growth and development of future generations.
The continuity of the societal function is thus successfully maintained.
RE-CONSTRUCTION OF  EXPERIENCES
Education, like growth, is a continuous process that occurs throughout an individual's life.
Education provides the learner with a wealth of resources to help shape his life, personality, character, outlook, experiences, and interactions in society.
Thus, education aids the learner in the reconstruction and reorganization of one's personal and societal life.
3. FUNCTION TOWARDS NATION
CIVIC & SOCIAL  RESPONSIBILITY
The promotion of civic responsibility is regarded as the most important function of education.
True education encourages students to understand their rights and responsibilities as citizens.
A nation's very existence and progress is dependent on the state's educational system.
TRAINING FOR LEADERSHIP
The quality of education determines how well people function in all areas, including social, political, religious, and educational activities.
As a result, the function of a good educational system is to instil such qualities in students in order to promote the overall development of the individual and the state.
EMOTIONAL INTEGRATION
The educational system aims to promote unity in diversity, including unity in religion, language, diet, dress, habit, and physical environment.
NATIONAL INTEGRATION
True education aims to educate individuals to overcome narrow prejudices of caste, community, and region and to look to a broader national perspective.
Related Topics, Sociology of Education
#Sociology of Education complete course # Sociology of Education past paper # Sociology of Education project #Computer Science all courses #University Past Paper #Programming language #Question paper #old paper #Introduction Sociology of Education #Nature and Scope of Education #Historical Background of Education #Characteristics of Education #Types of Education #Contemporary Education System #Education and Socialization #Education and Stratification #Education and Social Mobility #Functions of Education #Education and Democracy #Education for Leadership  #School as an Organization