Effects of Drought Stress on Physio-Biochemical traits (Lec 5 & 6)
Effect of drought on physio-biochemical traits
2.2.1 Water relation disturbance
The key phenotypic adoption in drought tolerant crops is tap root system.
They can extract water from deeper soil layer even under severe environment.
Those plants that have shallow root system, when subjected to drought, it affects their water potential inside cell.
The low water potential leads to turgor loss and interrupted stomatal conductance
 Water relations
higher water-use efficiency is corelated with stomatal closure to reduce the transpiration.
although components of plant water relations are affected by reduced availability of water, stomatal opening and closing is more strongly affected.
Drought-tolerant species maintain water-use efficiency by reducing the water loss. However, in the events where plant growth was hindered to a greater extent, water-use efficiency was also reduced significantly.
2.2.2 Effects on stomatal opening
Hydropassive stomatal closure
Guard cells exposed to low humid
Atmosphere and loose water directly by Evaporation.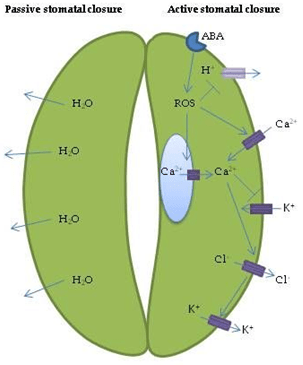 Hydroactive stomatal closure
2.2.3 Disrupted uptake of nutrients
Under drought, absorption capacity of roots is affected that affects nutrient uptake.
Nitrogen, being a vital constituent of plants, is required in high quantity.
The reduction of soil moisture reduces ability of roots to absorb adequate moisture and nutrients.
Phosphorus uptake, transport and translocation are also affected in drought conditions.
DS lessens NPK uptake in plants
2.2.3 Nutrient relations & Nitrogen metabolism
In general, moisture stress induces an increase in N, a definitive decline in P and no definitive effects on K
Influence of drought on plant nutrition may also be related to limited availability of energy for assimilation ,they must be converted in energy-dependent processes before these ions can be used for growth and development of plants
crop yields can be substantially improved by enhancing the plant nutrient efficiency under limited moisture supply
2.3 Drought induced oxidative stress

Free radicals of oxygen, that are also known as reactive oxygen species (ROS) has significant role in cell signaling. Their production remains continue unceasingly inside cell in controlled amount.
When a plant is subjected to any environmental stress, its production increases. This augmented concentration induces oxidative stress to crops.
They are highly reactive in action; they can cause injury to cellular structure.
In oilseeds like sunflower, drought overproduces ROS.
Malondialdehyde (MDA) is an indicator of cell membrane damage in plants. Water deficiency increases MDA production that specifies increment in cellular injury
7. Photo oxidation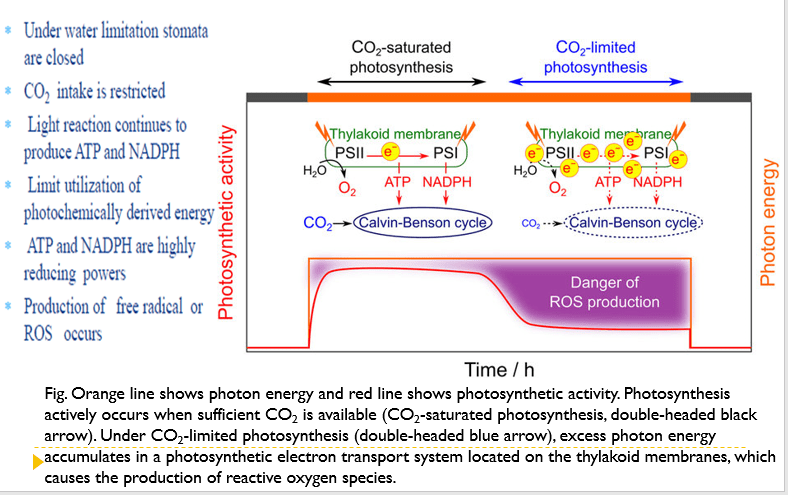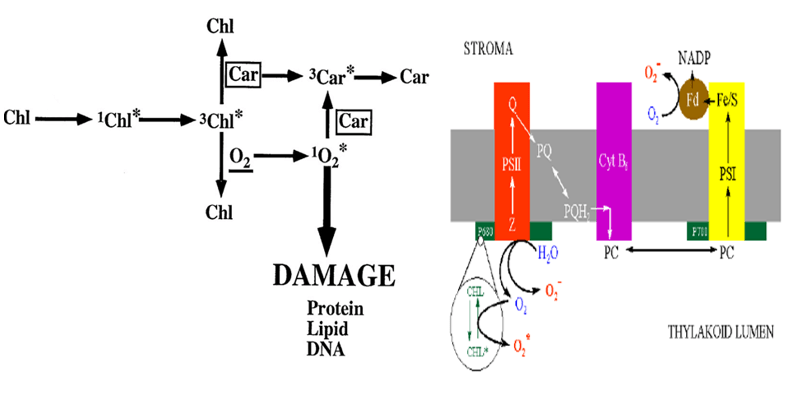 Extra energy on the electron transport chain can lead to the accumulation of singlet excited chlorophyll a (1Chl*) and, if there is not enough de-excitation of 1Chl* through non-photochemical quenching (NPQ), the generation of the excited triplet chlorophyll (3Chl*) is unavoidable .
In photosystem II (PSII), 3Chl* can pass excitation energy to molecular oxygen to form singlet oxygen (1O2),
In the electron transport chain a higher pool of reduced ferredoxin in thylakoids will increase the chances for O2 to receive electrons from photosystem I (PSI) and become over-reduced, forming superoxide radicals (O2⋅–).
1O2⋅– is highly reactive and can oxidize lipids and other molecules inside chloroplasts.
O2⋅– is rapidly converted to hydrogen peroxide (H2O2) by superoxide dismutase, but if not rapidly detoxified, H2O2 can give rise to the highly reactive hydroxyl radical (OH⋅).
H2O2 can oxidize a wide range of molecules inside the chloroplast, leading to the so-called photo-oxidation process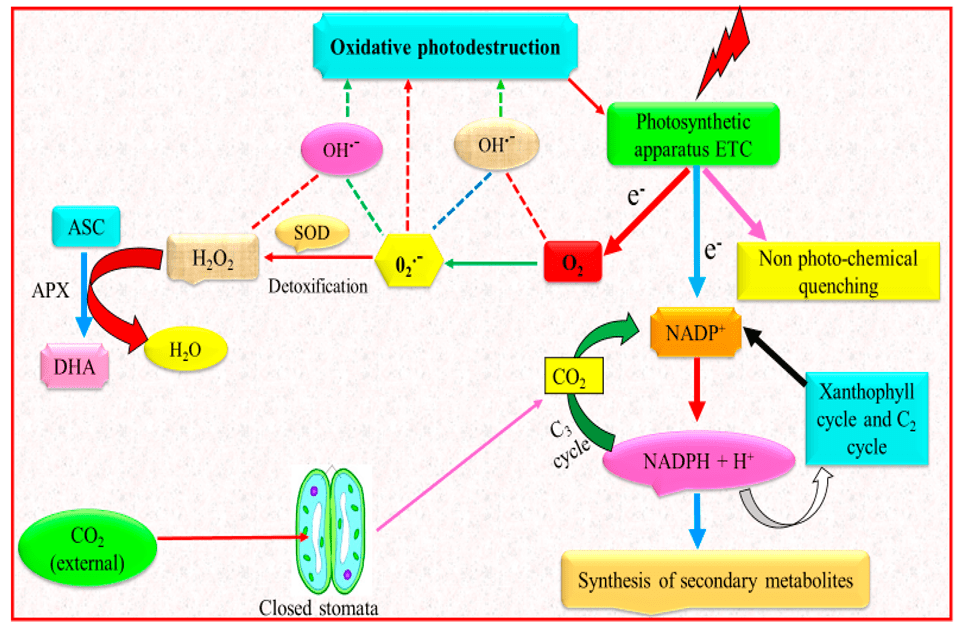 Figure 3. Enhanced synthesis of secondary metabolites under drought stress. Light energy captured by the photosynthetic machinery is considerably greater than the energy essential for the CO2 fixation. Energy dissipation takes place by non-photochemical quenching and re-oxidation of NADPH + H+, i.e., via xanthophyll cycle and C2 cycle. Endogenous CO2 level is low because of the escalated diffusion resistance caused by closing of stomata. Hence, a smaller amount of NADPH + H+ is utilized in the C3 cycle for the fixation and reduction of CO2 , and, ultimately, a greater amount of energy has to be dissipated. Protective activities such as non-photochemical quenching, C2 cycle and xanthophyll cycle are boosted by feedback mechanisms; a number of e− is transported to O2 (Mehler reaction). Generation of O2 •− ions further produce various ROS. Due to the stress-associated stimulation of SOD and APX, detoxification of the O2 •− ions occurs and therefore results in reduction of generation of ROS.
Greater enhancement in the reduction potential, i.e., the ratio of NADPH + H+ to NADP+, elevates the plants secondary metabolites synthesis
8. Photosynthesis
A major effect of drought is reduction in photosynthesis, which arises by;
Decrease in leaf expansion,
Impaired photosynthetic machinery
Premature leaf senescence and associated reduction in food production
Mg decreased during dehydration, that leads to low rate of photosynthesis and cell shrinkage
Carbon compensation point (CCP)
Drought stress disturbs the balance between the production of reactive oxygen species and the antioxidant defense, causing accumulation of reactive oxygen species, which induces oxidative stress.
Upon reduction in the amount of available water, plants close their stomata (plausibly via ABA signaling), which decreases the CO2 influx. Reduction in CO2 not only reduces the carboxylation directly but also directs more electrons to form reactive oxygen species.
Severe drought conditions limit photosynthesis due to a decrease in the activities of enzymes e.g.
Ribulose-1, 5-bisphosphate carboxylase/oxygenase (Rubisco),
Phosphoenolpyruvate carboxylase (PEPCase)
NADP-malic enzyme (NADP-ME)
Fructose-1, 6-bisphosphatase (FBPase)
Pyruvate orthophosphate dikinase (PPDK)
Reduced tissue water contents also increase the activity of Rubisco binding inhibitors. Moreover, non-cyclic electron transport is down-regulated and thus reduces the ATP synthesis.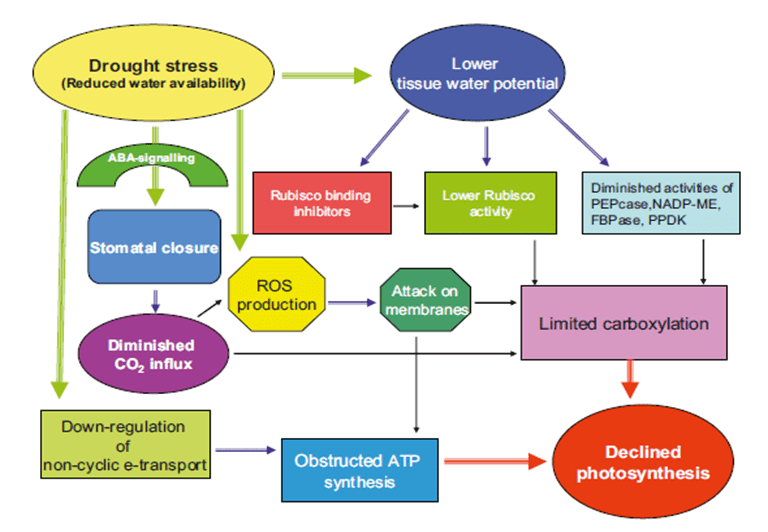 9. Effects on Respiration & Oxidative damage
Water deficit in the rhizosphere leads to an increased rate of root respiration, leading to an imbalance
In the utilization of carbon resources
Reduced production of adenosine triphosphate
Enhanced generation of reactive oxygen species.
    catalase activity & ascorbic acid content
    peroxidase activity
10. Assimilate partitioning
Drought stress frequently enhances allocation of dry matter to the roots, which can enhance water uptake
Seed abortion (drought induced changes e.g. 1carbohydrate deprivation, 2enhanced endogenous ABA, 3impaired ability to utilize incoming sucrose by reproductive sinks)
Fruit abortion ( acid invertase activity in young ovaries lowers the ratio of Hexose to Sucrose-—–inhibit cell division in developing embryo——weak sink intensity-—Fruit abortion)
In summary, drought stress not only limits the size of the source and sink tissues but the phloem loading, assimilate translocation and dry matter portioning are also impaired.
However, the extent of effects varies with the plant species, stage, duration and severity of drought.
11. Osmotic stress
Osmotic shock or osmotic stress is physiologic dysfunction caused by a sudden change in the solute concentration around a cell, which causes a rapid change in the movement of water across its cell membrane.
Water potential of plant must be more negative than that of soil